The money transfer service Wise, formerly known as TransferWise, is an innovative international money transfer provider that focuses on executing bank transfers from the U.S. to about 80 countries. Wise is more affordable than traditional banks by charging low and transparent transfer fees.
Their currency conversion fees are tiny compared to PayPal's and most banks because Wise uses its own accounts in the recipient's country. Wise does not literally transfer money from one country to another.
It takes 1 working day to receive a wire transfer but it usually takes 4–5 working days to receive money sent from outside the US, just have in mind the time zone differences between the countries where the banks work.
You don't need a Wise account to get your money. Just a bank account.
To receive your royalty payments via Wise transfer, just go to your Indiefy dashboard > click on your artist photograph > account settings > bank account > select the bank of your country and if Wise is available for your country you will see this image: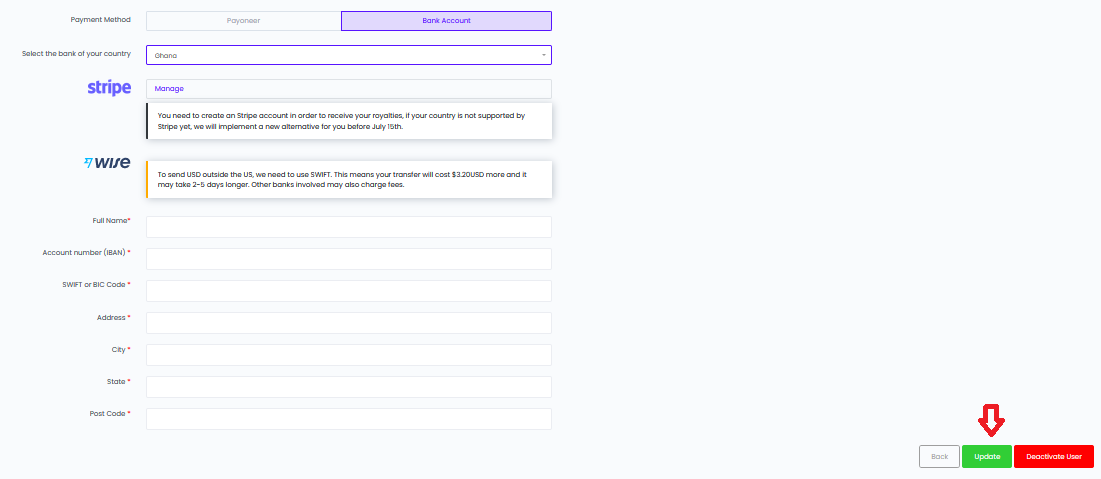 All that's left to do is select Wise as your payment method and add the information required. Once all of your bank account details are added, click on update.

If your information is already up to date, make sure that you are able to receive third-party payments and that the service is available in your country.

To find out if Wise is available in your country please take a look at this article.