The money transfer service Wise, formerly know as TransferWise, is an innovative international money transfer provider that focuses on executing bank transfers from the U.S. to about 80 countries. Wise is more affordable than traditional banks by charging low and transparent transfer fees.
Their currency conversion fees are tiny compared to PayPal's and most banks because Wise uses its own accounts in the recipient's country. Wise does not literally transfer money from one country to another.
It takes 1 working day to receive a wire transfer but it usually takes 4–5 working days to receive money sent from outside the US, but it can take longer due to time differences, or multiple intermediary banks.
You don't need a Wise account to get your money. Just a bank account.
To receive your royalty payments via Wise transfer, just go to your Indiefy dashboard > click on your artist photograph > account settings > bank account > select the bank of your country and if Wise is available for your country you will see this image: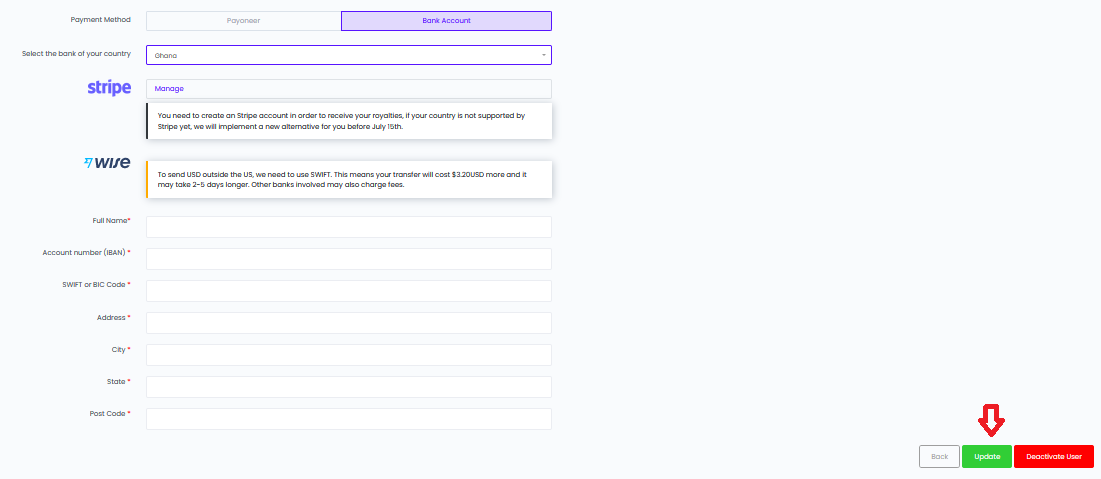 All that's left to do is select Wise as your payment method and add the information required. Once all of your bank account details are added, click on update.

If your information is already up to date, make sure that you are able to receive third-party payments and that the service is available in your country.
Wise is currently available in the following countries:
Australia
Bangladesh
Benin
Brazil
Bulgaria
Burkina Faso
Canada
Chile
China
Costa Rica
Croatia Czech Republic
Denmark
Egypt
Europe
Georgia
Ghana
Guinea-Bissau
Hong Kong
Hungary
India
Indonesia
Israel
Ivory Coast
Japan
Kenya
Malaysia
Mali
Mexico
Morocco
Nepal
New Zealand
Niger
Norway
Pakistan
Philippines
Poland
Romania
Russia
Senegal
Singapore
South Africa
South Korea
Sri Lanka
Sweden
Switzerland and Liechtenstein
Thailand
Togo
Turkey
Uganda
Ukraine
United Arab Emirates
United Arab Emirates
UNITED STATES
Uruguay
Vietnam
Zambia