Apple Music requires very specific guidelines for distributors according to the deal between this store and the aggregator. If you have uploaded to Indiefy your release but it is not on Apple's music catalogue, the issue is probably that the track and/or its metadata does not meet the store guidelines. You can check the reasons that Apple Music could reject your music in this article.
Metadata (release information)
Make sure that your release information (metadata) is correct in order to be on Apple's music catalogue.
Cover
You can only upload photos that you have legal authorization to share.
Send the original album cover whenever possible, and don't use generic art templates. Do not use art that does not match the album you are submitting.
Images that do not meet the presentation guidelines or standards may be rejected or deleted by Apple Music.
| | |
| --- | --- |
| Specification Guide | |
| Size | 1700 x 1700 Do not upscale images |
| Resolution | 72 dpi |
| File Type | JPG or PNG |
Things to Avoid
Make sure your image avoids these three common rejection issues: blurry or pixelated content, borders, and text.
1. No pixelation or low-resolution images.
2. No borders of any kind.
3. No typography or logos of any kind.
Additional Tips
No blurry, pixelated, mismatched, misaligned, or rotated images

No advertisements for content (for example, "Includes DVD" or "Includes Lyrics")

No artist album cover art or artist logos

No text, including artist names, roles, dates, instruments, or current and former bands

It should not include references to it being a digital product.

No borders

If you are collaborating with an artist, add "FT" before the collaborating artist name (symbols like: & "", -, X or () are not allowed) you can only use these symbols when it is a main artist.

No attempt to up-sell a product. The image should be a representation of the artist.

No misleading images (for example, depicting or referencing an artist not associated with the original artist)

No URLs for websites that sell music or compete with Apple Music or iTunes

No use of the terms "Apple Music," "MUSIC," or "iTunes"

It should not include price references, including "Reduced Price", "Low Price", "Available for $9.99" or "For Promotional Use".

No pornography or website URLs that link to pornography

No Nazi symbolism restricted by the Strafgesetzbuch section 86a, if the content is visible in DE, AT, or CH. Please be aware if this happens three times (where a photo in these territories is delivered with Nazi imagery), your entire catalogue will be suspended in DE, AT, and CH for up to six months.

No images or themes not legal or appropriate for all countries, or that encourage unlawful conduct, or are otherwise obscene, objectionable, or in poor taste

It should not include references to the physical packaging (e.g. CD or cassette) or any other retailer
Special Characters
Do not use emojis or special characters in titles, artist names, or other metadata (release information)
Track Version Information
(For some versions it is needed an original version on this platform previously)
Live

Radio Edit

Instrumental

Extended Version

Remix

Cover Version
Unnecessary Version Information
Album Version

Original Version

Previously Unreleased

Remix
Non-Standard Capitalization
Titles and artist names must not be in all capitals, all lower case, or random casing.
| | |
| --- | --- |
| WINTER | The title is all uppercased |
| winter | The title is all lowercased |
| wiNtTeR | The title has a random capitalization |
Explicit content and Parental Advisory logo
Explicit content will be considered when the song has bad words in your language, you must select this element in your track information.
Automatically Censoring Words
Artist names, track titles, and album titles must be submitted in the original form that was intended by the artist. Explicit words are automatically censored on the iTunes Store and on Apple Music (for example, F**k, or S**t). Do not insert the asterisks yourself.
The Parental Advisory logo on artwork is not important, but if you want to add it to your artwork, be sure that it has high quality and it's not modified.
ONLY use this type of Parental Advisory logo: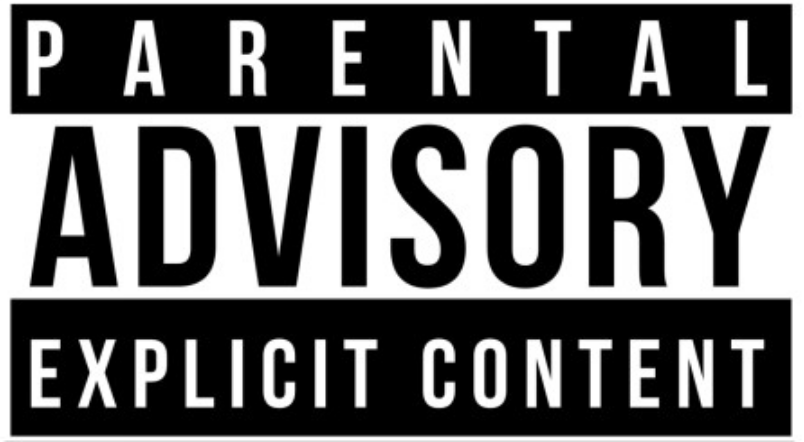 Audio Cut-Off or unnecessary extended
Check that your audio file is complete, and don't extend silence for more than 5 seconds.
Apple Music REJECTS beats that have watermarks or the use of free beats, also when the audio duration is less than 30 seconds.
If you have more questions about Apple's guidelines, click here for more information.

If you consider your release needs corrections or a second review please fill out this form.